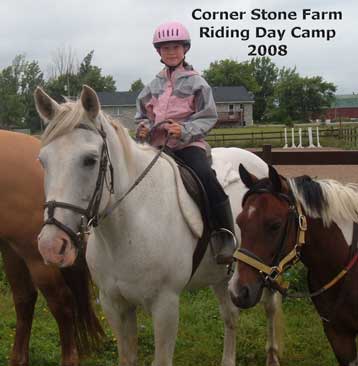 Corner Stone Farm
Adult Equi-Camp For the young at heart.
Offered each spring and fall.
Monday, Tuesday and Thursday's.
June 12-13-16 and July 17-18-20 August 7-8-10
Extra weeks can be added as interest grows.
For those adult riders who want to learn, have some fun and companionship. Rekindle an old passion OR start from scratch .. all stages welcome.
Days are 9:30 am - 3 pm with a lesson or recreational ride per day.
Practical lessons including: daily care, theory and fun offered each day as well.
Highlight's: Yoga for riders session, BBQ Thursday and the shopping Trip to the local tack store. Heated supervised pool a short drive away for a refreshing swim.
Limited spaces available so book your spot now. Use up your sick days .. .and enjoy the farm
Come for all three days or just one.
Cost $250.00 for the Three days . Healthy Lunch included each day.
Contact Cathy : 613 547 3735 or email Corner_stone_farm@hotmail.com
Children's Riding Day Camps
Full Day Camps 8:30 am - 4:00 pm
extended hours avaiable
Daily Activities will include:
Ø Lessons on horseback
Ø Trail ride or games on horseback
Ø Stable management
Ø Basic horse care and equipment maintenance
Ø Outdoor/nature activities
Ø Games and lunch (Lunches and snacks are to be brought by the campers each day. We have a fridge, microwave and indoor flush toilets available for the campers supervised use)
Ø Two rides per day - one or two full riding lessons. One in the morning and then depending upon experience and ability of the riders, games on horseback or small group trail rides every afternoon.
Lessons: Taught by qualified adults.
Each lesson includes barn orientation, grooming, tacking up and stable management
Your child will learn to ride safely on a one to one ratio for a minimum of 30 minutes riding per private lesson.
Campers with riding experience will receive a semi-private riding lesson for a full hour.
For more information
Contact: Cathy Colwell 613 547 3735
or email Corner_Stone_Farm@hotmail.com
Full day $ 480.00 per week
Half day $ 250.00 per week All prices include HST
Make checks payable to: Cathy Colwell